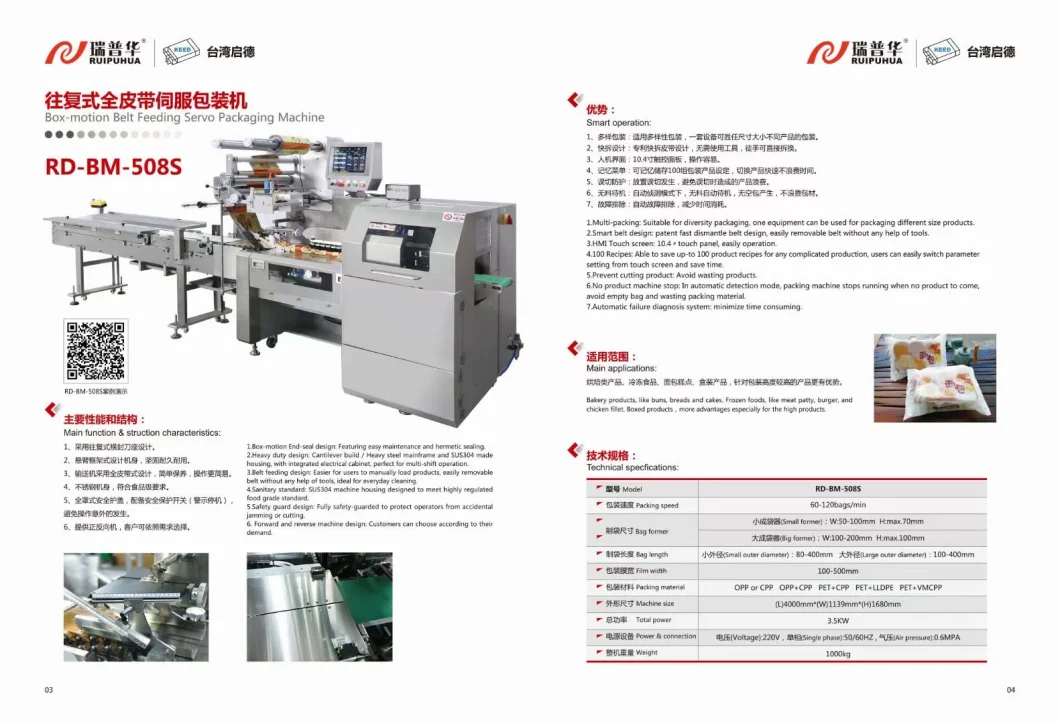 Main performance and structure:
1. Design of Reciprocating Transverse Seal Tool Seat
2. Cantilever frame design fuselage, strong and durable
3. Conveyor adopts full belt design, which is simple to maintain and easy to operate.
4. White steel fuselage, meeting the requirements of food grade
5. Full-cover safety cover, equipped with safety protection switch (warning shutdown), to avoid accidents in operation.
6. Provide forward and reverse machines, customers can choose according to their needs.
Main features and advantages:
1. Diversified Packaging: Applicable to Diversified Packaging, a set of equipment can be competent for packaging different sizes of products.
2. Belt Conveyor: Easy to use, quick to disassemble and assemble, easy to clean and maintain.
3. Quick disassembly design: Patented quick disassembly belt design, without using tools, can be directly disassembled and replaced by bare hands
4. Man-machine interface: 10.4 inch touch panel, easy to operate
5. Memory Menu: Store 100 sets of packaged product settings in memory, and switch products quickly without wasting time.
6. Protection against mis-cutting: Placing mis-cutting to avoid waste of products caused by mis-cutting
7. Unexpected standby: In the automatic detection mode, the unexpected standby automatically, no empty bags are produced, and no bags are wasted.
8. Troubleshooting: Automatic Troubleshooting to Reduce Time Consumption
9. Simple Maintenance: Reduce Mechanical Parts, Easy Maintenance
Optional configuration:
Adjustable bagger, folding device, automatic film connection, adjustable conveyor belt, feeding belt, discharging belt, feeding device, ink wheel typewriter, heat transfer typewriter, labeling machine, punching device
Scope of application:
Baking products, frozen food, bread and cakes, boxed products, for higher packaging products have more advantages.