Brazil market hot sale stamping parts straight side press machine
JW31 straight side single crank press is applicable to light, thin material, for single, and progressive die application in blanking, piercing, bending, forming, interlink with ROT line or transfer unit. High rigidity frame, applications suitable for various kinds of stamping works.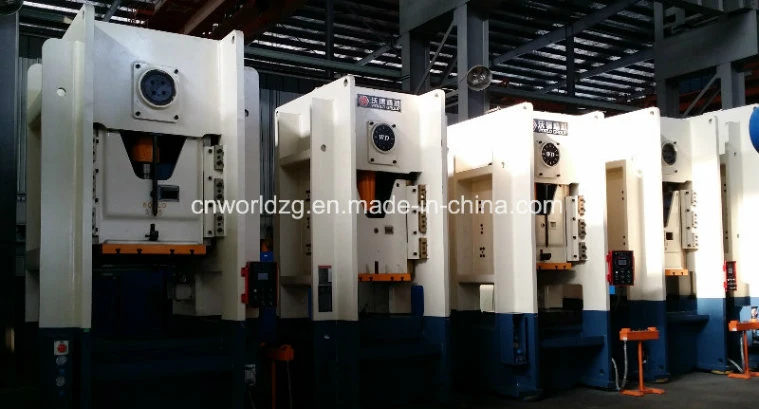 Features:
1. The steel fabricated press frame in one piece and annealed for full stress-relieve.
2. Oil cooled combined clutch and brake.
3. Extra long 8 faces guide rails for high precision.
4. PLC control, hydraulic overload protected, auto lubrication system. 5. Motorised slide adjustment.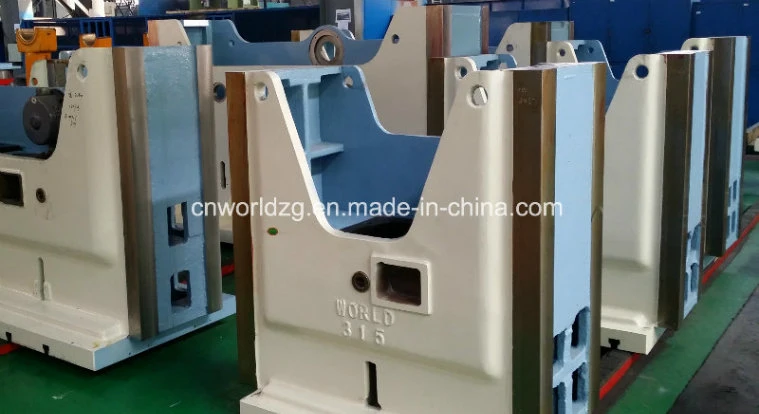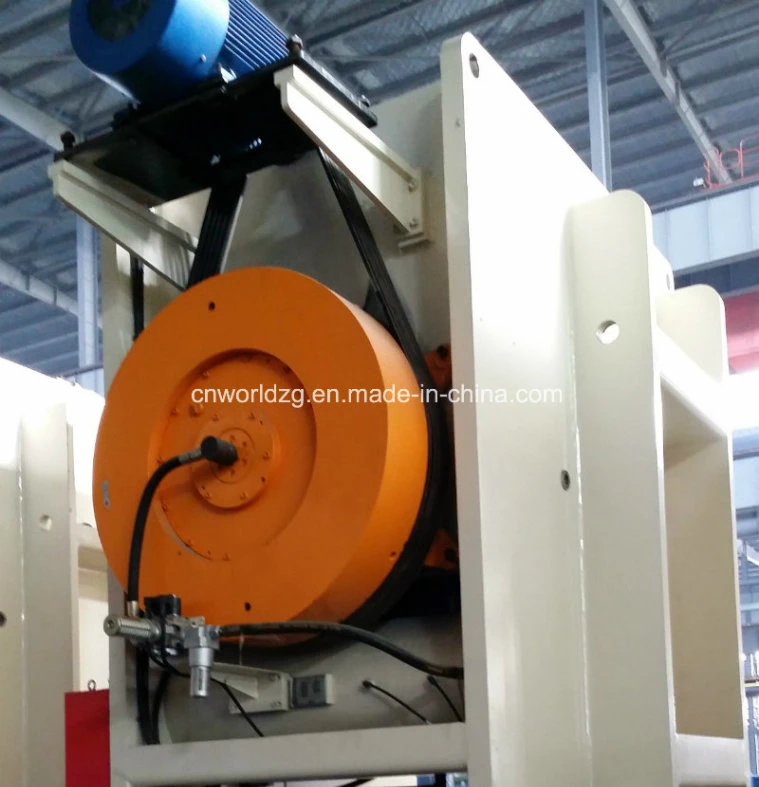 Standard Equipments: Optional Equipments:
1) Wet clutch 1) Dry clutch
2) PLC 2) Light curtain
3) Hydraulic overload protecting pump 3) Inverter
4) Touch screen 4) Variable speed motor
5) Cam controller 5) Foot pedal
6) Die height adjusted motor (JH21-60 and upon models) 6) Cushion
7) Auto lubrication system 7) Auto feeding shaft
8) Manual lubrication system 8) NC feeder
9) Double hand control panel 9) Die quick change device
10) Electronic crankshaft angle indicator
11) Predetermined counter
12) Balance cylinders for slide and upper die
13) Work light
14) Joint for air
15) Joint for miss-feeding
16) Absorbing pads

Warranty and service:

- one year warranty for whole press.
- all spare parts are available as we produce most of the parts in our factory.
- it is easy to get the electric parts as all are international famous brands.
- we can provide technical support via email, phone or video.
- we can send out engineers for service, installation or training with reasonable additional cost.
- English operation and maintenance manual is provided with the press.
- All safety warning tags and control panels are in English.

Our products range:

- J23 and JH23 inclinable eccentric press, capacity from 6.3ton to 125ton.
- JH21 c frame single crank press, capacity from 25ton to 400ton.
- JH31 semi-straight side single crank press, capacity from 110ton to 400ton.
- JW31 H frame single crank press, capacity from 110ton to 400ton.
- JH25 c frame double crank press, capacity from 110ton to 315ton.
- JW36 H frame double crank press, capacity from 110ton to 500ton.
- JX36 close type big table press with double crank, capacity from 400ton to 1000ton.
- JS36 close type gear press, capacity from 300ton to 1250ton.
- JS31 close type gear press, capacity from 160ton to 1000ton.
- hydraulic shearing machine
- hydraulic press brake and cnc press brake

Specifications of JW31 power press:
ITEM

CODE

UNIT

JW31-160

JW31-200

JW31-250

Nominal Capacity

Pe

KN

1600

2000

2500

Slide Stroke

s

mm

180

200

220

Slide Stroke Speed

Fixed

n

spm

45

35

30

Variable(optional)

n

spm

25-50

25-45

20-35

Max. Die Shut Height

H2

mm

400

450

500

Die Shut Height Adjustment

t

mm

110

110

120

Side Window Size

F-B

E

mm

650

750

800

Height

F

mm

350

420

430

Distance Between Uprights

G

mm

1100

1200

1300

Table Size

F-B

D

mm

650

750

800

L-R

C

mm

1000

1100

1200

Thickness

H3

mm

165

180

190

Table Hole Diameter

mm

180

200

200

Slide Bottom Size

F-B

b

mm

600

700

750

L-R

a

mm

750

850

950

Table Surface Height

H1

mm

1005

1115

1205

Overall Dimensions

F-B

A

mm

2200

2300

2500

L-R

B

mm

1780

2000

2050

Height

H

mm

3800

4200

4500

Motor Power

KW

15

18.5

22

Weight(approximate)

kg

16000

22000

27500
ITEM

CODE

UNIT

JW31-315

JW31-400

JW31-500

Nominal Capacity

Pe

KN

3150

4000

5000

Slide Stroke

s

mm

220

250

250

Slide Stroke Speed

Fixed

n

spm

30

25

20

Variable(optional)

n

spm

20-35

20-30

15-25

Max. Die Shut Height

H2

mm

550

600

650

Die Shut Height Adjustment

t

mm

120

120

120

Side Window Size

F-B

E

mm

850

900

1000

Height

F

mm

480

520

650

Distance Between Uprights

G

mm

1350

1450

1650

Table Size

F-B

D

mm

850

900

1000

L-R

C

mm

1250

1350

1500

Thickness

H3

mm

190

200

220

Table Hole Diameter

mm

220

220

220

Slide Bottom Size

F-B

b

mm

800

850

950

L-R

a

mm

1000

1100

1250

Table Surface Height

H1

mm

1215

1225

1225

Overall Dimensions

F-B

A

mm

2600

2700

3100

L-R

B

mm

2200

2370

2600

Height

H

mm

4550

4900

5400

Motor Power

KW

30

37

45

Weight(approximate)

kg

30000

36500

47500