CAR DOOR BORDURE HYDRAULIC PRESS MACHINE
Yz25 Series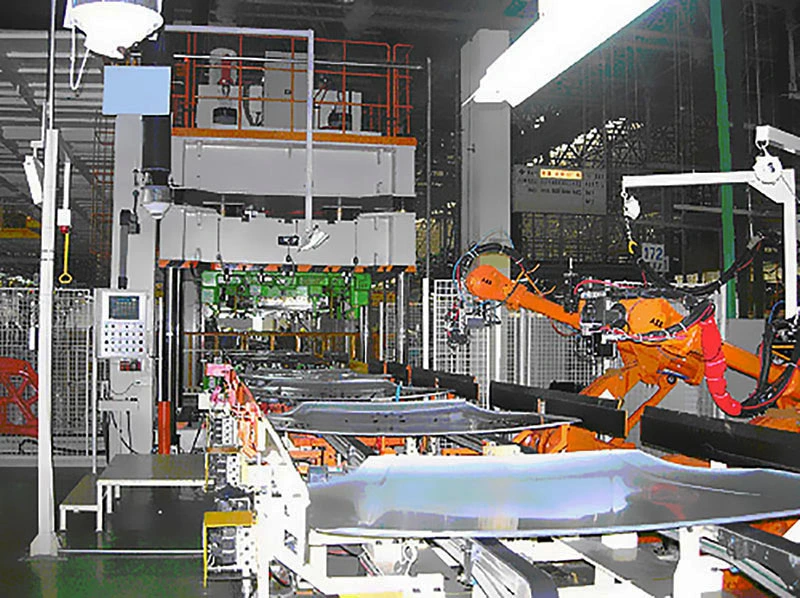 Specs
Model

Unit

Yz25-160T

Yz25-160TA

Yz25-200T

Yz25-200TA

Yz25E-200TA

Yz25E-315T

Yz25E-315TA

Nomainal force

KN

1600

1600

2000

2000

2000

3150

3150

Max.Liquid working pressure

MPA

23

23

12.5

12.5

25

22.5

22.5

Return force

KN

260

260

470

470

300

600

600

Slider stroke

mm

1200

1200

600

600

1000

750

750

Open height

mm

1600

2600

1620

1300

1700

1700

1700

Slider speed

Down

mm/s

150/75

150/75

100

100

150

150

150

Press

mm/s

3-12

4-20

0-12

0-12

9-23

10-12

10-12

Return

mm/s

75/100

60/90

60-80

60-80

130

90

90

Worktable size

L-R

mm

2400

2400

2880

2880

2400

2800

2600

F-B

mm

1980

1900

1900

1900

2460

2500

2200

Slider under Max.distance from the bench

L-R

mm

2400

2400

2200

2200

2400

2800

2800

F-B

mm

1980

1900

1900

1900

2460

2500

2500

The moving workbench load

t

10

-

-

16

15

25

25

The moving workbench moving distance

mm

3000

-

-

3400

3000

3000

3000

Overall dimensions

L-R

mm

3600

3250

2920

2920

8700

5000

4800

F-B

mm

5820

2500

2580

2580

3700

3800

3500

H

mm

5200

6300

5320

5320

5600

5400

5400

Motor power

KW

25.2

20

44

47.3

31

-

-

Structure type

Four-column

Four-column

Four-column

Four-column

H-frame

H-frame

H-frame
Features
1.The frame is heavy-duty as well as compact and it assures precise results.It is made of high quality mild steel and it has undergone systematicmechanical processes.
2. Electric welding of high precision
3. Usage of high-tech boring machines for extreme precision parts
4. The composite series has been designed for applications in which structural rigidity and lexibility in terms of production are the particular rerogatives required. servo motor
5. It is convenient to clean and change oil.