aluminum stainless steel pot making hydraulic press 315 ton CE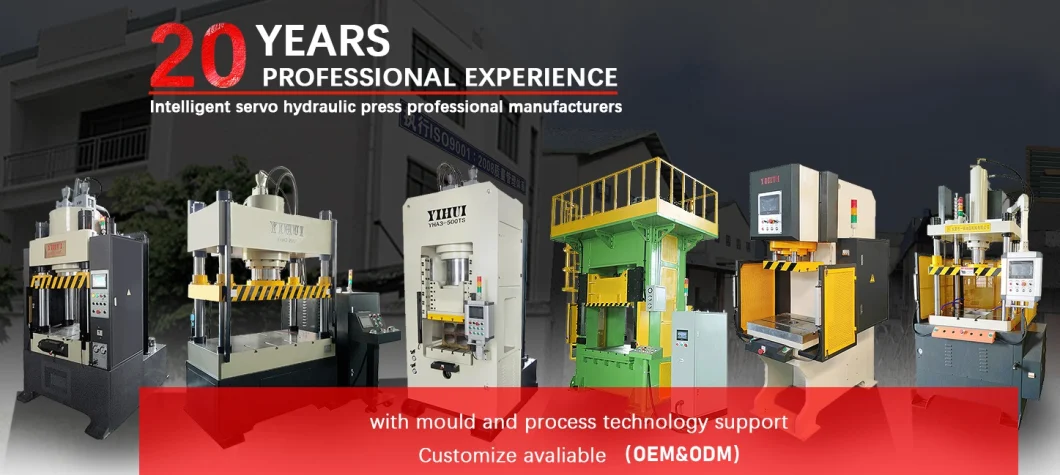 We are the factory specializing in the production of hydraulic presses.
And can provide total solutions, including hydraulic press machines, molds, product processing technology, automated production lines.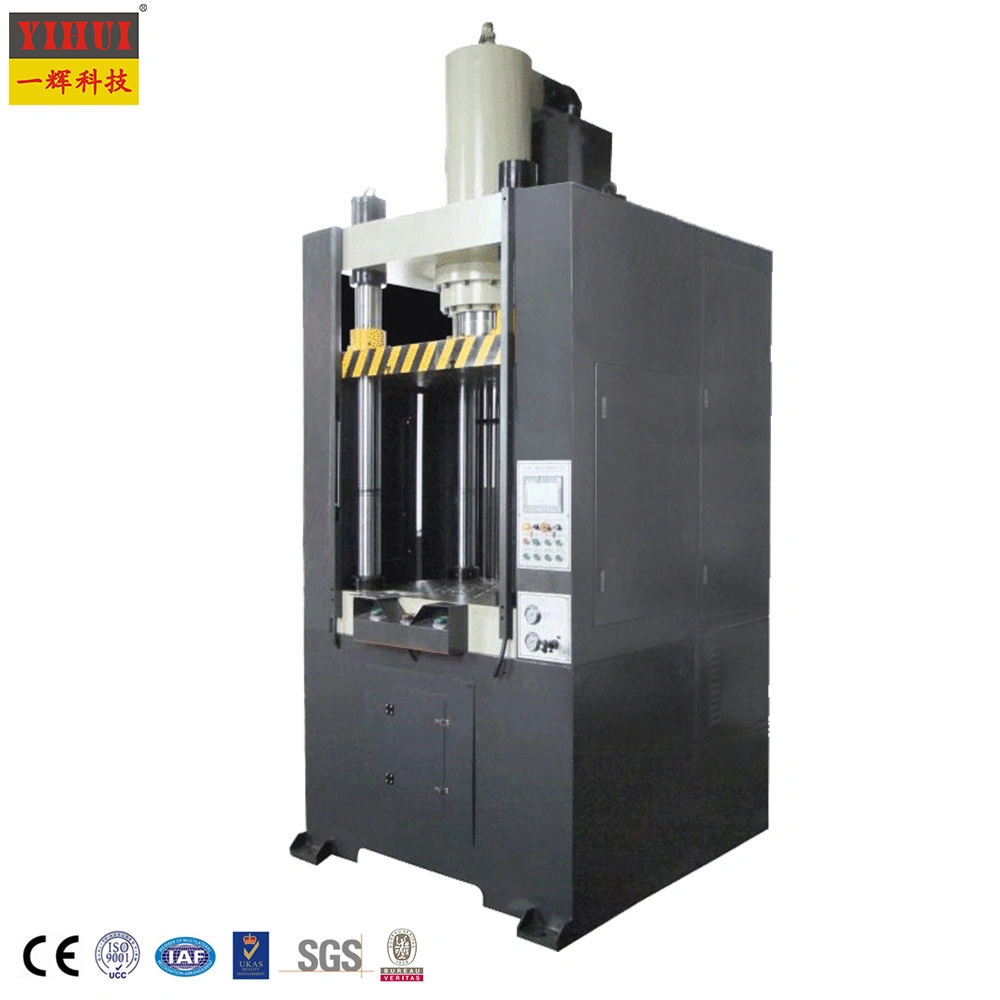 YIHUI deep drawing double action 4 column servo hydraulic press machine is with PLC and with touch screen and with servo motor , with main cylinder and lower cylinder and ejection cylinder.
Touch Screen Details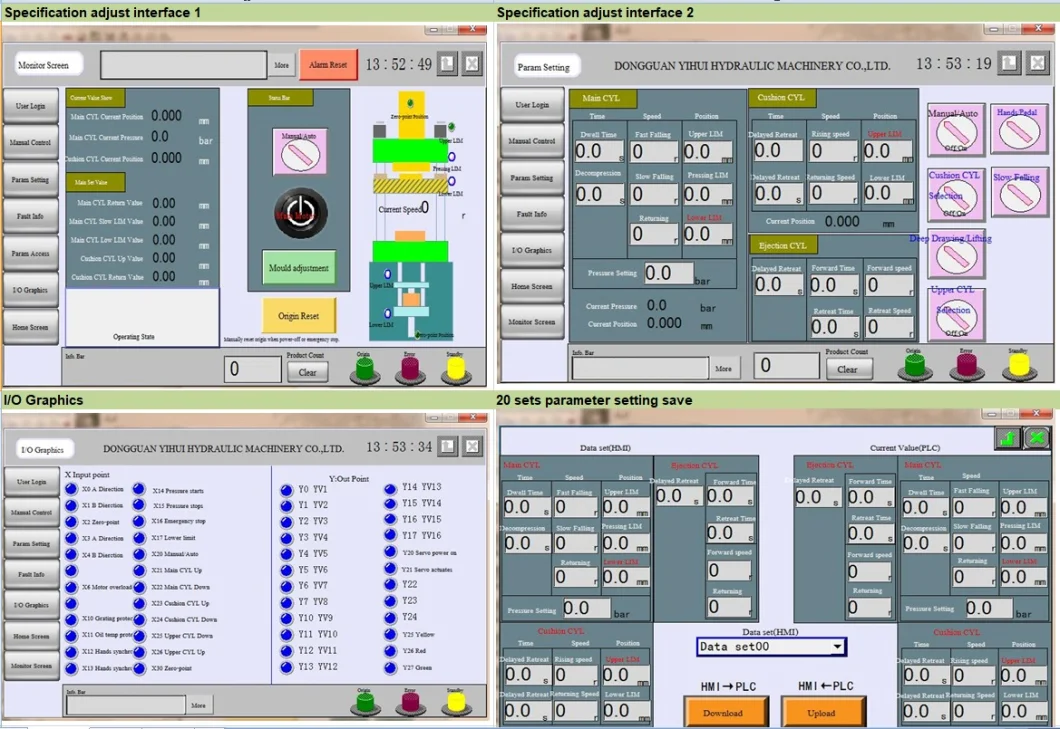 Product Application

1) Pressing, Deep Drawing, Stamping, Powder Compacting, Compressing, Moulding and so on.
2) Deep drawing molding and stamping for Auto parts, oil sump, kitchen sink, bucket, pan, pot, oil filter cover, box, cup, kitchenware, cookware,and hardware tools, etc.
3) Molding and stamping for metallic and non-metallic.
Samples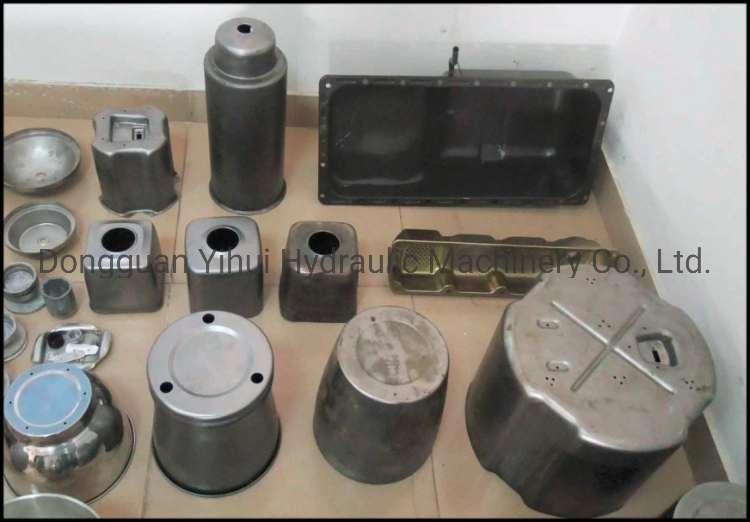 Parameters
item

Unit
Product Specifications
YHA1-150T
YHA1-200T
YHA1-250T
YHA1-350T
YHA1-500T
Nominal Force
kN
1500
2000
2500
3500
5000
Max.Working Pressure
Mpa
20
21
22
22
20
Master Cylinder Nominal Force
kN
1000
1500
1750
2500
3000
Max.Stroke of Ram
mm
550
550
600
650
750
Daylight (Max.Open Height)
mm
850
900
1000
1100
1300
Lower Cylinder Nominal Force
kN
500
500
750
1000
2000
Stroke of Lower Cylinder
mm
250
250
250
300
350
Upper Ejection Cylinder Force
kN
30
30
30
50
50
Stroke of Upper Ejection Cylinder
mm
230
230
230
280
320


Speed of Ram
Down No Load
mm/s
350
380
320
380
290
Pressing
mm/s
2~40
2~40
2~40
2~40
2~40
Return
mm/s
340
360
320
300
290
Effective Area of Working Table
RL(Inside Column)
mm
620
700
800
950
1200
FB(Edge)
mm
750
850
900
1100
1400


Overall Dimension
L.R
mm
1940
2140
1650
2430
2780
F.B
mm
1380
1820
1890
2000
2400
H
mm
3250
3440
3890
4250
4750
The Distance Between the Working Table and the Ground
mm
1120
1120
1300
1340
1700
Servo Motor Power
kW
16.4
24.5
24.5
31
49.6
Total Weight(Approx)
Ton
5.1
6.3
9.2
11
20.9
Oil Quantity(Approx)
L
500
650
700
800
900
All above specifications are standard sizes of hydraulic press machine,any special specifications customize is also available for us!



Component Details





Why so many famous brand company cooperate with us ?



1.Our factory have specialized in independent development and producing hydraulic press for 20 years.

So the product is stable and high quality.
2. Machine body, we use bending structure , much stronger than the common welding structure .
3. Oil pipe, we use Clip-on structure , much tight than common welding structure. Prevent oil leakage.
4. We take integrated oil manifold block, much easier to check machine and repair machine.
5.The main components are imported from Germany, Italy and Japan . So the quality is near the Japan production, but the unit price is lower than Japan production.
6.Our factory can offer full set line service, such as the mould,process technology, and other relative machines.



Our Certificates




Features:
Servo motor drive system:

1. Small start-up current: little impact on power grid.
2. Motor starts when press is punching and stops when feeding material,picking out bricks,and cleaning mould. Energy-saving high to 65%.
3. High control precision: speed error is only 0.0001/r.
4. Stable running: no vibration and high torque when runs with low speed.
5. Quick response: very short time from static to rated speed, able to adjust speed freely between high speed to low speed within one stroke. Excellent effect of even hammer strike.
6. Speed overload function, achieves 2-3 times of rated speed.

Touch screen parameter setting system:

1. According to technology demands for different bricks, user can set the strike times, strike strength, and strike speed digitally. Able to achieve the effect of gently press for air-released, strike from gentle to heavy, the whole process of brick producing sequencing, reduce human factor to improve product quality.
2. Touch screen can real-time display the working status, monitor the producing process, detect and report the failure automatically.
3. Able to set password to protect production safety.
4. Touch screen has operation instruction and guideline.
Customer Visit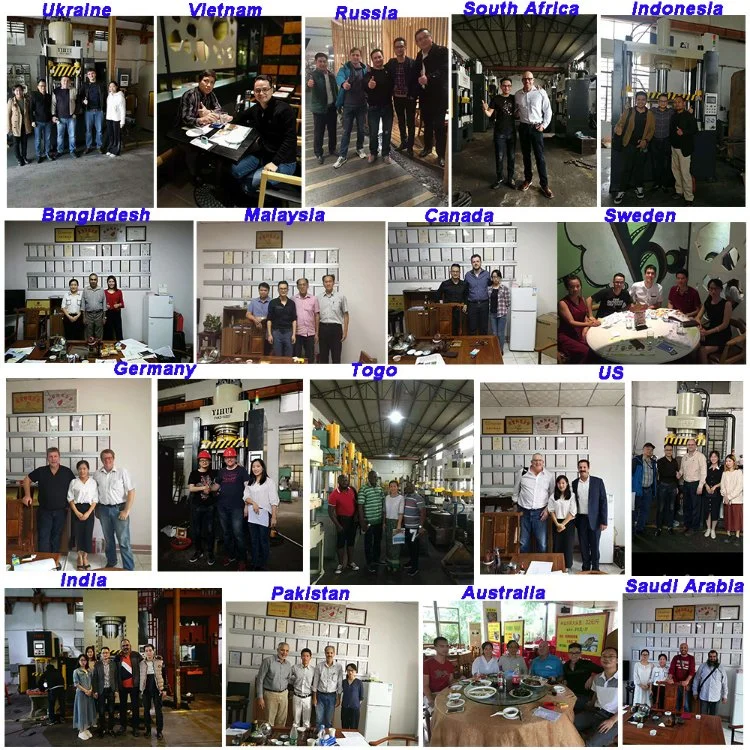 YIHUI Hydraulic press with servo system,can bring you 10 kinds Advantages as below:
1. Can avoid the oil leakage. Because using Servo motor, the oil temperature can be lower.
2. English and customer country local language, bilingual operation interface, easy to operate.
3.Can save 50% - 70% energy.
4.Parameters and Speed can be adjusted on the touch screen, easy to operate.(Machine without servo system, speed can not been adjusted.)
5.Can be 3 to 5 years longer service life than the common machine.
it means,if common machine can service for 10 years, then machine with servo, can use 15 years.
6.Ensure safety and easy to know error,easy to do after service. Because of Automatic alarm and auto troubleshooting system.
7.Very easy to change mold, shorter time of changing mold.
Because it have memory function,if use the original mold, do not need to adjust parameter again,
8.Very quiet , do not have noise.
9.Much stable than common machine.
10.Much high precision than common machine.
Our Company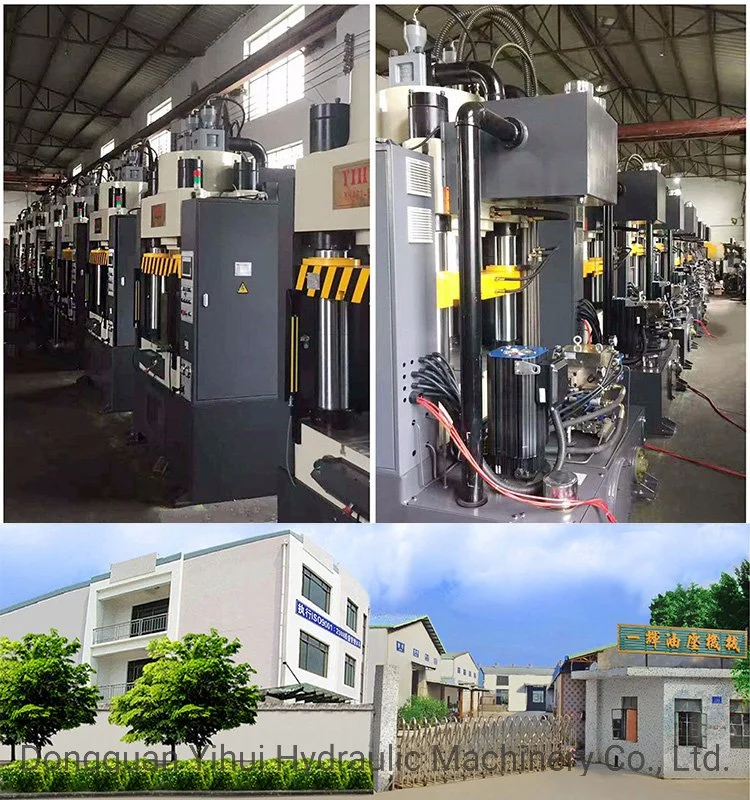 Years of Experience
Dongguan Yihui Hydraulic Machinery Co., Ltd. has been specialized in manufacturing hydraulic press machine for over 20 years . Especially speciallized in the servo system hydraulic press machine .
Exported Countries
YIHUI brand machines have been exported to over 40 countries,
such as Germany, USA, UK, Sweden, Japan,Slovenia, Serbia,Saudi Arabia,El Salvador,Togo, Malaysia,Singapore, Australia ,Vietnam,Pakistan,South Africa, and so on.

Cooperative brand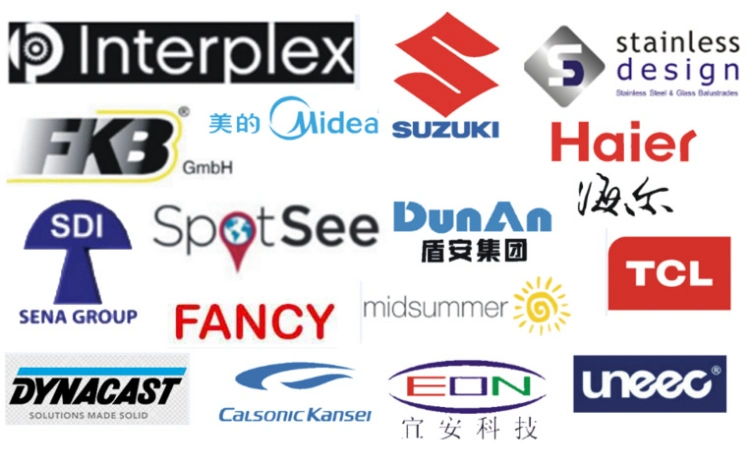 Customers' Positive Feedback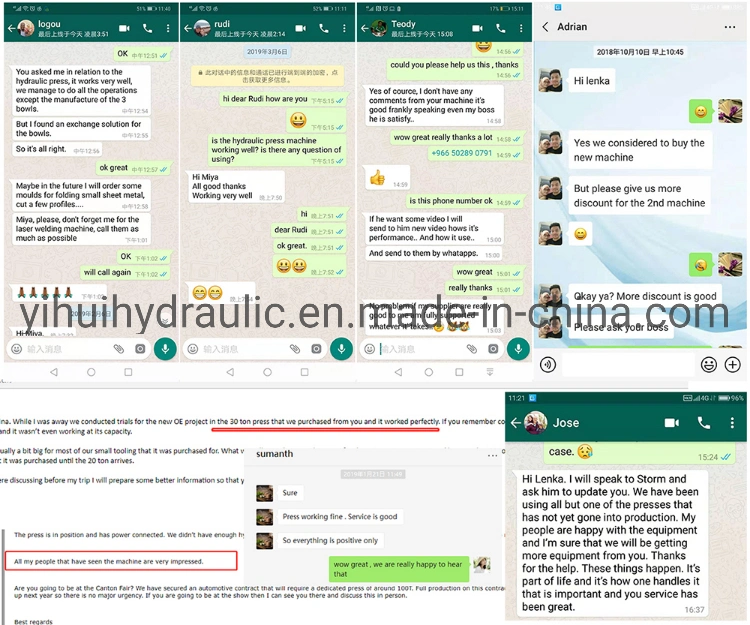 Exhibition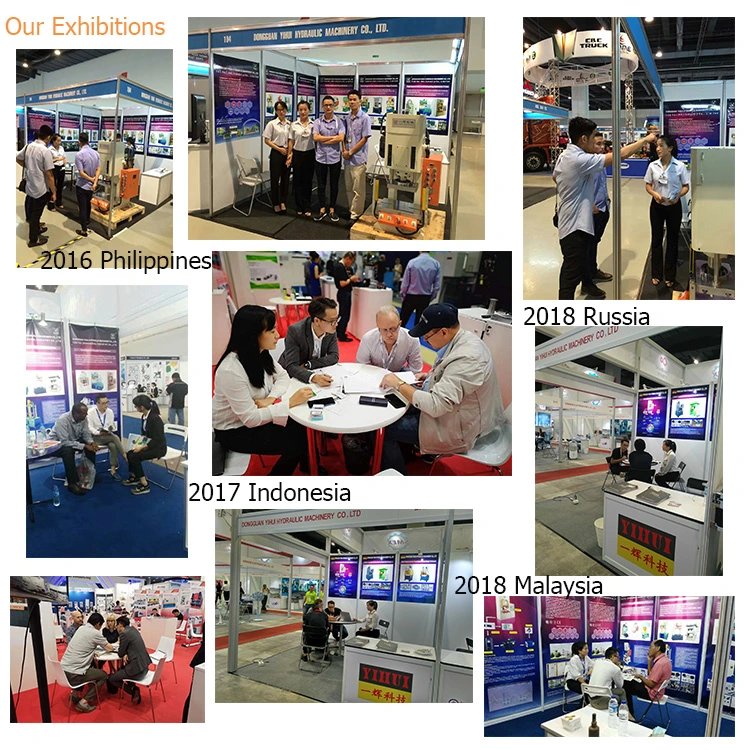 Packing&Delivery
Packing
Size
Accordingly
Weight
Accordingly
Packing Details
The normal package is wooden case(Size: L*W*H). The wooden case will be fumigated if needed. If container is too tight, we will use PE film for packing or pack it according to customers' special request.
FAQ
Q1. Are you manufacturer or Trader?

A1: We are professional in producing hydraulic press for over 20 years, We have our own designer,and the machines have been patented.


Q2. How to get an accurate quotation?
A2: The customer should provide the related technical requirements, product drawings, pictures, industrial voltage, planned output, etc.


Q3. What if I use this machine for the first time and know nothing of it ?
A3: We will have our engineers teach you how to operate it,you can just inform us some details of the product.you need then we can customize as your special order.


Q4. How does your factory do regarding quality control?
A4:Dongguan YIHUI has been regard quality as the priority. We always attach great importance to quality controlling from the very beginning to the very end ,so our press can match all the CE and ISO standard also more strict standard .


Q5. How about your delivery time?
A5: Generally, it will take 35 days after receiving your deposit payment. The customized press delivery time depends on the items and the quantity of your order, in general is 55 days.Sometimes we have standard machines in stock.


Q6. What is the warrantee period of the machine?
A6: We can supply 1 year warranty for our machines, We can send engineer to customer place if big quality problem. We can provide internet or calling service at any time.


Q7. What is the after-sales service of your factory?
A7: 1.Installation:Free installation and commissioning, travel expense is on foreign customer. (Including round ticket and accommodation cost)
2.Personnel training: Our engineers will give your employees free machine training when they come to our company to assemble the machines, and welcome to our factory to learn how to operate our machine.
B7: And we can offer engineer overseas service.


Q8. What is the advantage of your factory?
A8: The main components of our machine are imported from the famous brand such as Japan and Germany. So the quality is near the Japan production, but the unit price is lower than it.

We do have a full set line service (turnkey project),which means that we can not only provide the press and mold but also able to customized as your special order.