Features:
1. Steel welded body, tempering treatment or VSR(Vibratory Stress Relief), high rigidity, accuracy and stability;
2. Vertical located crankshaft, compact structure;
3. The crankshaft undergoes grinding treatment after high frequency quenching;
4. Lengthened six-face rectangle guide with a surface of bronze plate;
5. Pneumatic dual balance cylinders, which balance the slide and punch weight to reduce noise and impact;
6. PLC control and imported safety duplex valve;
7. Wet type combined multi discs friction clutch and brake;
8. Hydraulic overload protected.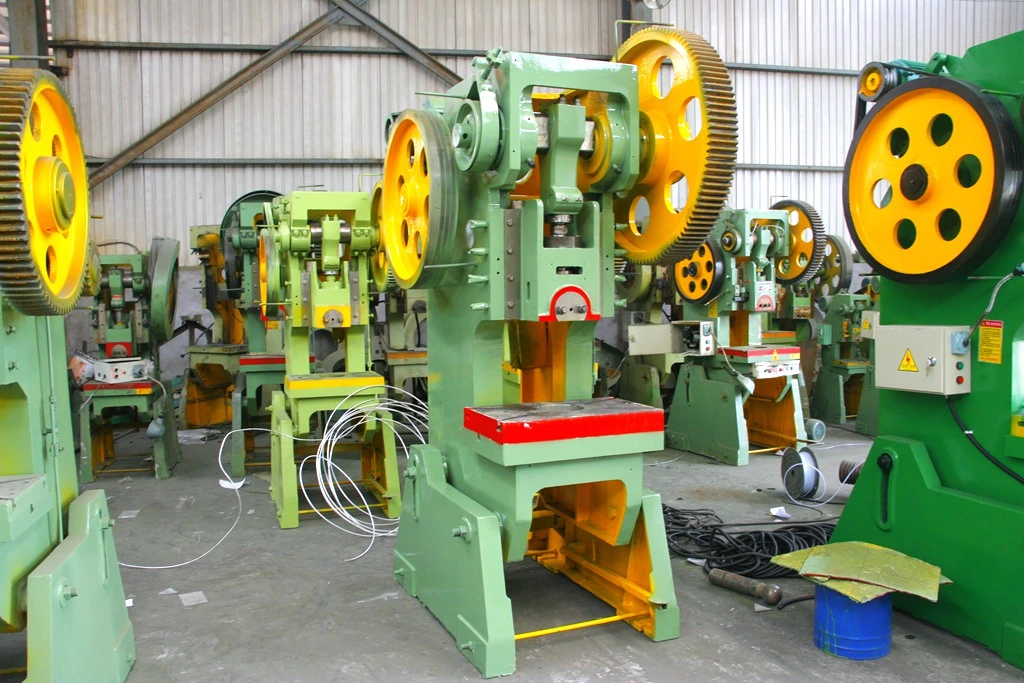 Technical parameters
Unit
J23-6.3
J23-10
J23-16
J23-25
J23-40
J23-63
J23-80
J23-100
Nominal pressure
KN
63
100
160
250
400
630
800
1000
Slipper stroke
mm
35
50
60
75
100
100
120
130
Stroke times
Times/min
140
145
125
78
54
40
40
38
Closing height
mm
225
260
310
345
380
430
430
590
Closing height adjuster
mm
30
35
45
55
75
100
100
100
Distance between slipper center and machine
mm
130
130
170
200
210
290
300
400
Polo distance
mm
160
180
220
250
300
430
440
530
Worktable dimension
Front&back
mm
240
245
300
355
400
570
580
720
Left&right
mm
390
395
480
560
630
870
880
1100
Slipper underside bore
Front&back
mm
140
150
180
200
205
360
365
370
Left&right
mm
140
150
210
230
230
395
405
430
Size of die handle bore
Diameter
mm
30
30
40
40
50
50
50
60
Depth
mm
55
55
60
60
70
70
70
75
Worktable thickness
mm
45
50
50
55
60
80
80
100
Distance between bench to guideway
mm
725
770
800
830
900
950
800
850
dimension
Front&back
mm
900
900
1100
1345
1550
1950
2000
2470
Left&right
mm
650
670
850
950
1150
1500
1550
1735
height
mm
1580
1750
1950
2100
2280
2850
2950
3310
Foundation bolt distance
Front&back
mm
485
590
800
850
950
13000
10000
12000
Left&right
Mm
380
400
470
580
590
920
830
10000
Motor power
Kw
1.1
1.5
2.2
2.2
4
7.5
7.5
11
Weight
kg
480
580
1100
1550
2450
3800
5800
10100