JH21 series high-speed & high-precision press machine 160ton JH21 C frame die stamping metal sheet press machine 125ton JH21 crank press automatic power press machine price JH21-125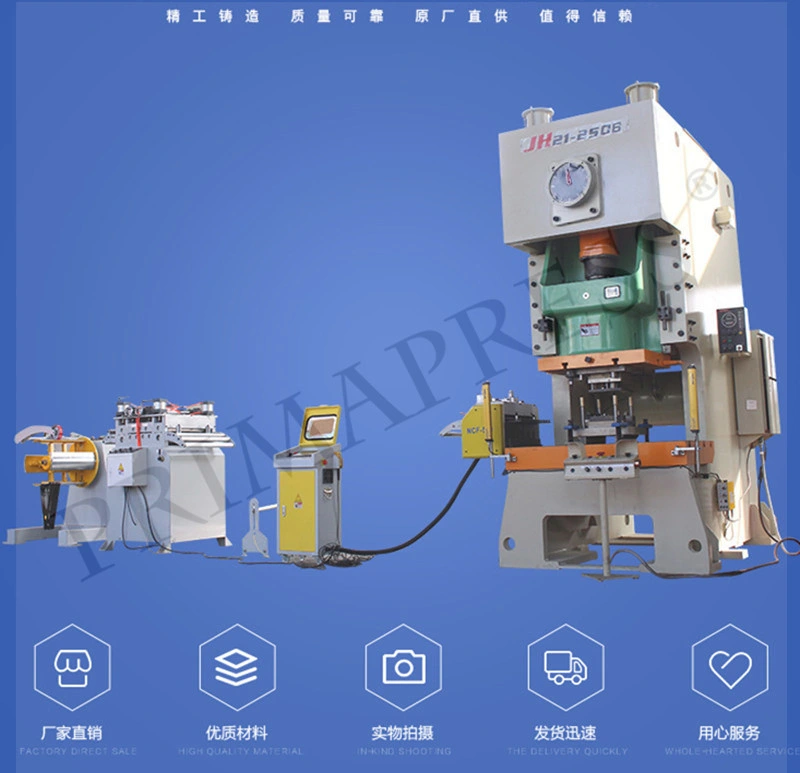 Product introduction
Open Back Press with Fixed Bed, a kind of thin sheet metal processing universal press
imported advanced technology
of AIDA company in Japan, which is suitable for shearing, punching, blanking, bending and shallow drawing. The structural feature is as follows:
I
. Brief introduction of structure
1,
The frame is
welding with whole steel plate
which has high rigidity, reasonable structure and beautiful design.
2,
The press adopts
the vertical crankshaft structure
. The distance of fulcrum is short and the crank is rigid.
Driving gear is installed into the frame
and gear is immersed in oil reservoir. Customer could choose Electromagnetic governor
(
Wannan motor factory
)
, which is stepless speed regulation within a certain range and enlarge the area of craft.
3,
The press adopts
Italy
low inertia combined
wet
friction clutch and brake made in Shanghai OMPI
,
which has
little passive inertia, low energy
consumption, reliable interlock of clutch and brake and long longevity.
4,
The slide is a whole cast form construction which adopts
hydraulic overload protector made in
Showa, Japan
with agile and reliable action. After overload, it can reset automatically to reduce the down time and improve the
availability of press. High pressure oil seal which is imported from German is installed in slide high pressure cylinder.
5,
The shut height adopts
electric adjustment
, which has digital display. Its display is 0.10mm.
The press adopts
hexahedral rectangle lengthen gib
, which has high guiding precision and steady precision.
The press has pneumatic balancer, which reduce the second stroke. It runs smoothly to improve
the dynamic precision of press
.
6,
The control part adopts
PLC from
Mitsubishi
, which is efficient to guarantee the reliability of control part.
7,
The press adopts dual valve from TACO, Japan, which can guarantee the safety and reliability of clutch.
8,
The press adopts
cam controller which be combined with proximity switch
. It can send signal exactly within the range of 360°and control the criterion of various actions and the harmony of assist machine to improve the reliability of press.
Besides, the press has two-hand operating button and foot pedal switch, which can realize Continuous, Single and Inch mode. JH21 C frame die stamping metal sheet press machine
II.Guideline of Technical performance
The model JH21-315 press is manufactured according with accuracy of open press (JB/T 6580-93) and technical requirement of open press (JB/T 6580.1-1998). The security is according with the security and technical terms standard of forging machinery (GB17120-1997) and the security and technical requirement standard of mechanical press (JB3350-93).
II
I
.Main Technical Specificatio
ns:
JH21-25

JH21--45

JH21-63

JH21-80

JH21-110

JH21-125

Capacity

kN

250

450

630

800

1100

1250

Nominal Stroke

mm

3

4

4

5

6

6

Slide Stroke

mm

80

100

120

140

160

160

SPM

Fixed

min-1

100

80

70

60

50

50

Variable

80-120

70-90

60-80

50-70

40-60

40-60

Max. Die Height

mm

250

270

300

320

350

350

Die Height Adjustment

mm

50

60

80

80

80

80

Between Slide Center & Frame

mm

210

230

300

300

350

350

Bolster (FB×LR)

mm

400×700

440×810

580×900

580×1000

680×1150

680×1150

Bolster Opening (Up Hole Dia.×Dpth×Low Hole Dia.)

mm

φ170×20×φ150

φ180×30×φ160

φ200×40×φ180

φ200×40×φ180

φ260×50×φ220

φ260×50×φ220

Bolster Thickness

mm

80

110

110

120

140

140

Bolster Opening (Dia./FB×LR)

mm

260×250

300×300

390×460

390×520

420×540

420×540

Slide Area (FB×LR)

mm

300×360

340×410

400×480

420×560

500×650

540×680

Shank Hole (Dia.×Dpth)

mm

φ40×60

φ40×60

φ50×80

φ50×80

φ60×80

φ60×80

Between Columns

mm

450

550

560

640

760

760

Main Motor Power

kW

3

5.5

5.5

7.5

11

11

Outline Size (FB×LR×H)

mm

1300×1050×2050

1390×1200×2400

1580×1210×2520

1640×1280×2700

1850×1450×3060

1850×1490×3060

Net Weight

kg

2600

3450

5400

7000

9340

9900
Detailed Photos: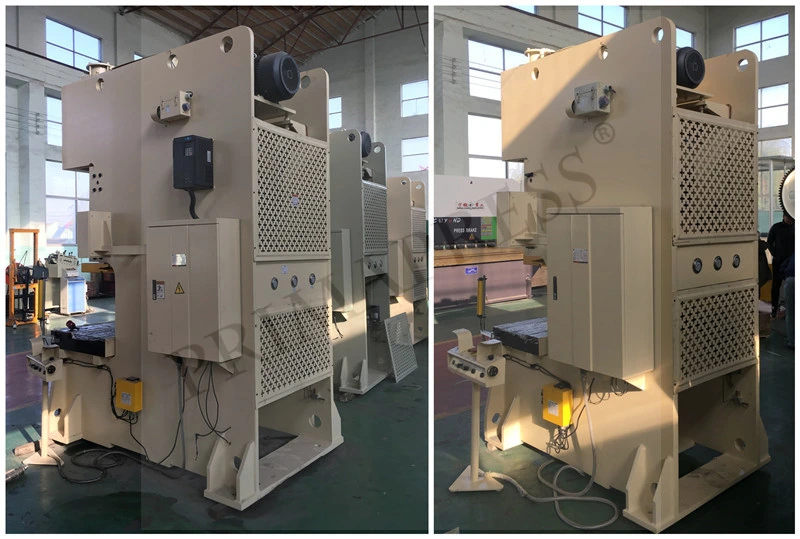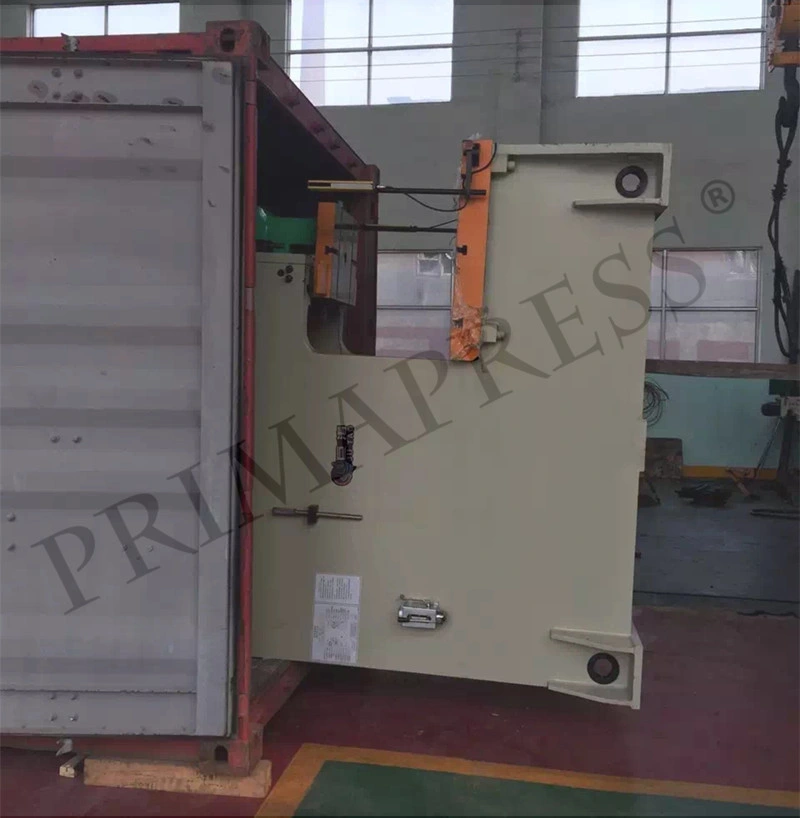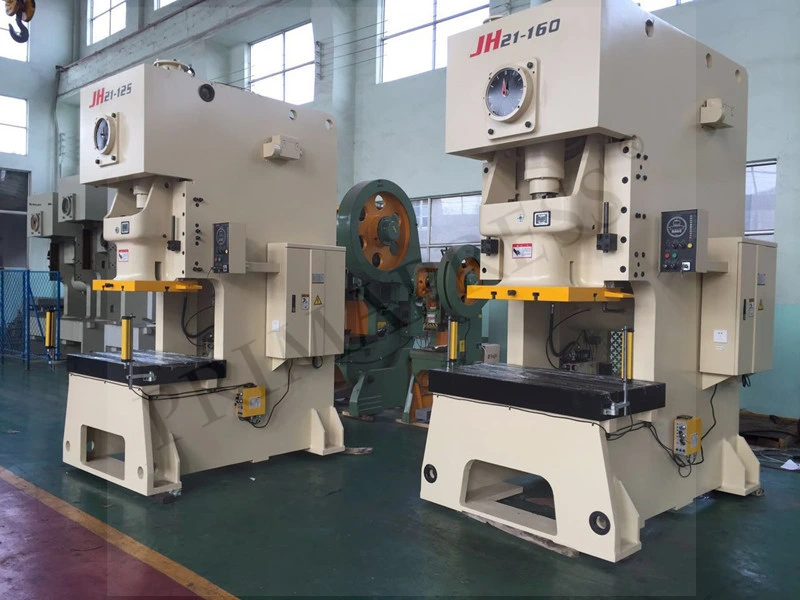 About Prima Factory:
Nanjing Prima CNC Machinery Co., Ltd. is located in the center of China's machine tool industry, Mingjue Industrial Park , Shiqiu Town, Lishui Zone, Nanjing Our company specializes in Table type CNC Fiber Laser cutting machine, exchangeable table cnc fiber laser cutting machine, press brake, shearing machine , ironworker, punching machine , HVAC ducting machine and other metal forming forging equipment development and sales, our product positioning in the middle-top quality class. We commit a modern enterprise management methods, committed management and meticulous management and zero defect operation. Based on the quality of the product management, its excellent quality, innovative design, reasonable price, and improve after-sales service to win the majority of Chinese and foreign customers praise. Primapress Brand sheet metal processing equipment. Widely used in automobile manufacturing, communications, computers and so on. Prima CNC insist on leading technology strategy, positioning in the "do-class machine, a first-class brand," the high level of long-term sales of CNC machine tools in the process, not only to cultivate a number of series of numerical control products, while cultivating a group of skilled, practical style of high-quality workforce. Enterprises have their own research and development institutions, with the domestic strong product research and development of skills. Primapress specializes in the export business, our company already has CE certification and have one international after-sales team , Our machines are widely exported to Southeast Asia, EU, USA , South America, the Middle East and other markets around 100 nations with good quality, suitable price, comprehensive after-sales service, was widely welcomed by customers and unanimously approved. Our company ambition is "build quality brand, do excellent machine",it is also the company's entrepreneurial spirit and look forward to domestic and overseas friends to visit.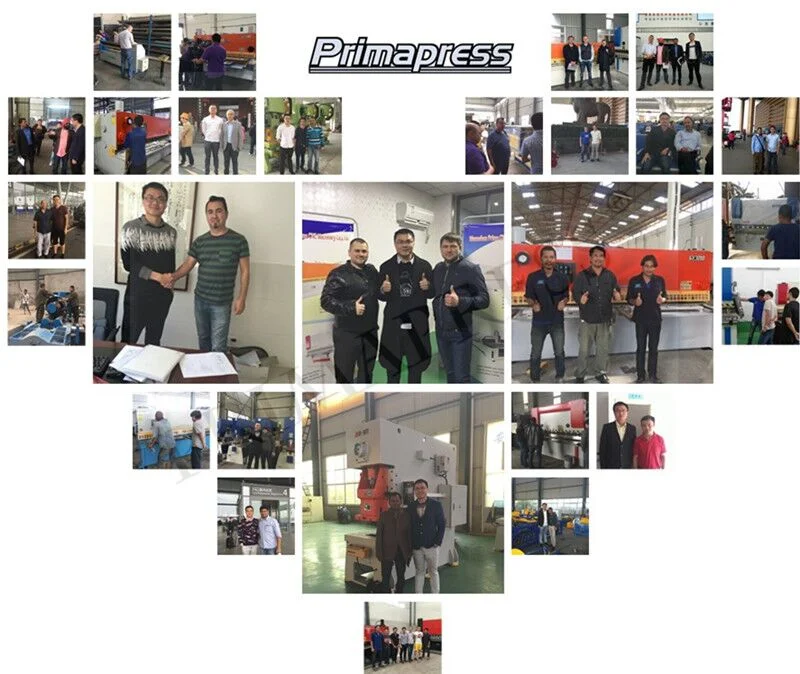 FAQ:
Q1. Trade company or manufacturer?
A: We manufacturer
Q2. Is it easy to operate for the new user ?
A: very easy
Q3. What should I do when the machine is in trouble?
A: Take photos and videos and contact our sales at once.
Q4: How long does it take to learn how to operate a laser cutting machine?
A: A couple of hours
Q5: Is it harmful to human body when in operation ?
A: no,very safe. JH21 C frame die stamping metal sheet press machine 125ton JH21 crank press automatic power press machine price JH21-125 JH21 series high-speed & high-precision press machine 160ton