Product description
new type cannabis oil press machine avocado oil press machine sesame oil press machine
Our Sinoder Indutech Machinery Company supply the complete set of Cooking oil
production line machinery including sunflower oil production line, palm oil production line, soya bean oil production line, peanut oil production line, cotton seeds oil production line, maize corn germ oil production line, clamelia oil production line, rapeseeds oil production line, canola oil production line, coconut cropra oil production line, shea oil production line, groundnuts oil line, sesame oil production line,black seeds oil production line, jatropha seeds oil production line,moringa seeds oil production line and other vegetables oil processing machines.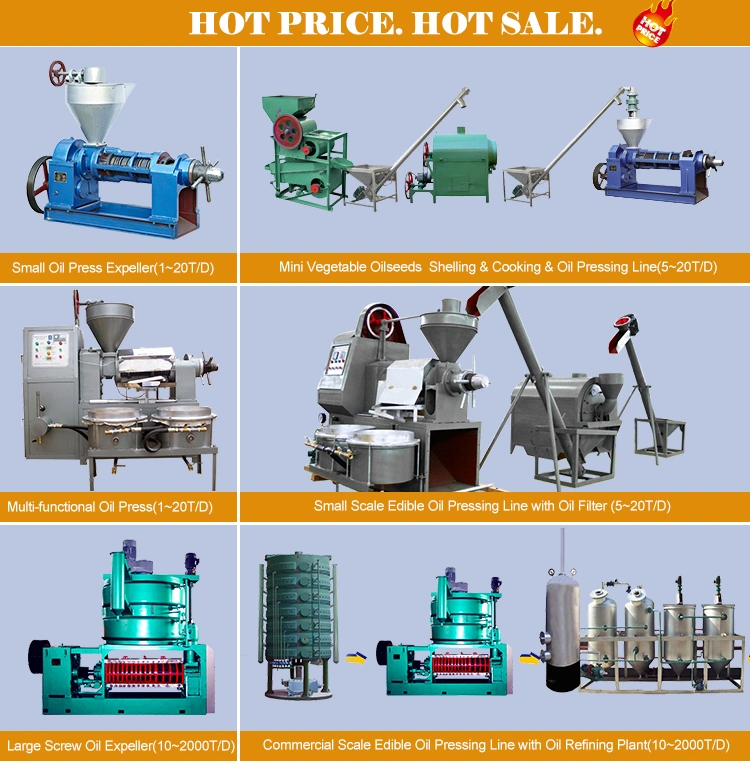 Applictions
Edible oil press machine, which is also called oil expeller, oil extraction machine or oil mill, It can be used for various raw materials, such as soybeans, peanuts, cotton seeds, rape seeds, sesame seeds, sunflower seeds, canola seeds, coconut seeds, tea seeds, palm seeds and jatropha seeds.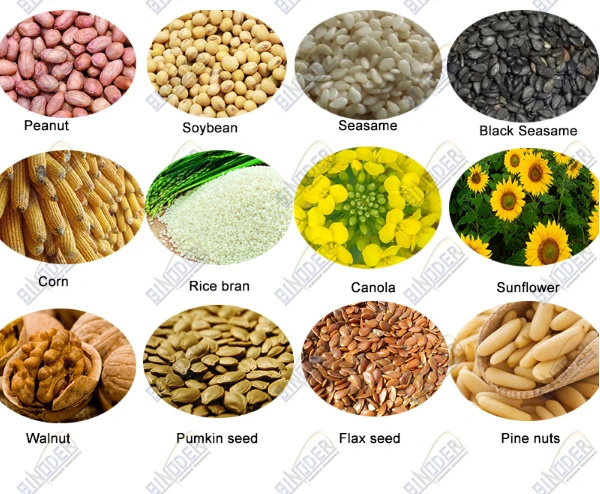 We meet the demands of virtually every application in the vegetable oil processing industries. With premium quality oil mill machinery, oil extraction machines and professional oil processing systems & oil refining technologies in the field of vegetable oil extraction and refineries, you can depend on our equipment and expertise to help you hulling, crushing, conditioning, flaking, cooking, extruding, expelling, extracting, degumming, neutralizing,dewaxing/fractionation.
We (our Sinoder Company) supply small scale oil press machines for home or village use, Hydraulic Oil Press Machine for small scale oil factory and home use, large scale production oil screw pressing line and oil refinery lines for commercial production factory use.

Sinoder 6YL Series Small Scale Oil Press Machines (for home or village family workshop use)




Sinoder Brand 6YL Series Small Scale Oil Press Machines Parameters:
Model

6YL-60

6YL-80

6YL-100

6YL-120

6YL-160

Dia.

Φ53mm

Φ81mm

φ101mm

φ123mm

φ160mm

Screw speed

64 r/min

47r/min

38r/min

35r/min

32r/min




Power

Motor

1.5-2.2kw

5.5kw

7.5kw

11kw

22kw

Vacuum pump

0.18kw(VP-1.5)

0.55kw

0.75kw

1.1kw

1.1kw

Heater

0.9kw

2.2kw

2.2kw

2.2kw

2.2kw

Capacity

4.-60kg/h

80-100kg/h

150-200kg/h

250-300kg/h

500-600kg/h

Weight

268kg

880kg

1250kg

1500kg

1800kg

Size(mm)

1020*720*798

1500*1200*1750

2000*1300*1850

2100*1300*1850

2300*1300*1950
Sinoder 6YZH Series Hydraulic Oil Press Machine for small scale oil factory and home use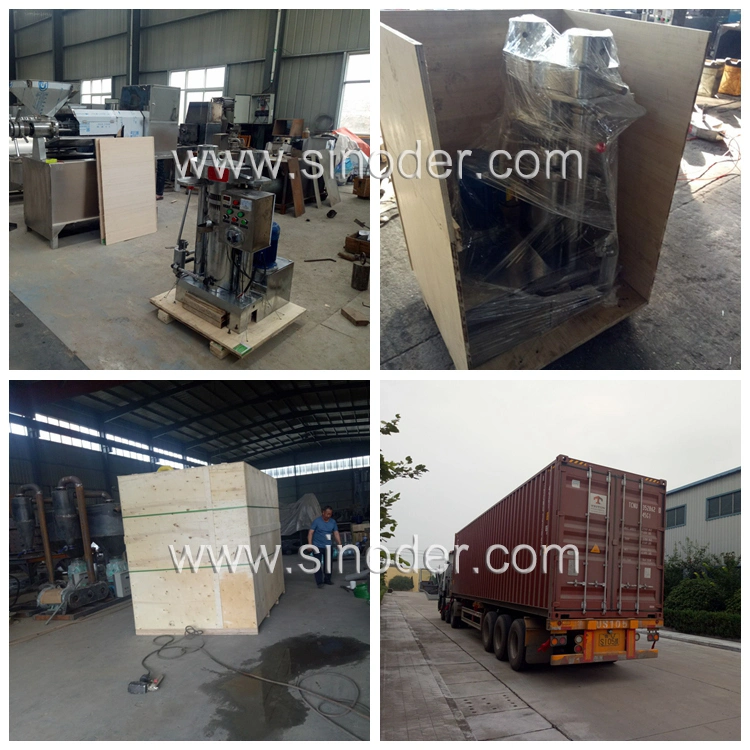 Sinoder Brand 6YZH Series Hydraulic Oil Press Machine Parameters:



Large scale screw Oil pressing Machine for commercial oil factory use:
| | | | | | |
| --- | --- | --- | --- | --- | --- |
| Model | Capacity | Oil in cake | Power | Overall dimensions(L×W×H) | N.W. |
| ZY24A | 60-80 t/d | 12-18 % | 30+5.5+3.0 kw | 2900×1850×3640 mm | 5500 kg |
| ZX24A | 15-20 t/d | 7-9 % | 30+5.5+3.0 kw | 2900×1850×3640 mm | 5500 kg |
| ZY28 | 120-150 t/d | 16-20 % | 75+11+4.0 kw | 3740×1920×3843 mm | 9160 kg |
| ZX28 | 40-60 t/d | 7-9 % | 55+11+4.0 kw | 3740×1920×3843 mm | 9160 kg |
| ZY32 | 220-260 t/d | 16-20 % | 110+11+5.5 kw | 4100×2270×3850 mm | 11000 kg |
| ZX32 | 90-100 t/d | 8-10 % | 90+11+5.5 kw | 4100×2270×3850 mm | 11000 kg |

Complete Edible Oil Manufacturing Unit includes
♦ Cleaning process : Use vibration cleaning sieve and magnetic selector to get better cleaning effect.And This step is mainly to clean the big impurities ,like the stone, big dust , iron etc.
♦ Crushing Process: This Process is mainly to crush the peanut , as the peanut is big ,it is not easy to press .We must crush the peanut to 6-8 pieces,then we need to peel .The rate of peel is about 90%.
♦ Flaking Process : After crush and peel ,we need to flake the crushed sunflower , which make the cell wall of sunflower broken . And we flake the sunflower to 0.55 mm thickness .Then it is useful for the oil extracting..
♦ Cooking Process: After the flaker,we need to cook the flaked sunflower , control the moisture at 5-7% ,the temperature is 110-115degree.
♦ Oil-pressing : After all the pretreatment , pre- press the sunflower , the oil can be extracted about 76% .
♦ Primary Oil Filtering Process: after the oil pressing, the crude oil will be primary filtered and for store to tank or for next process of oil refinery.
Strong manufacturing ability
♦ We have a professional service staff, and timely communication with the user, so that each machine is a "hen"lay eggs to make money.
♦ Nearly one century's history of manufacturing machinery,has a very valuable experience in manufacturing and technology services. Ensure every machine perfect.
♦ SINODER is the leading manufacturer and supplier of small oil press machine. Through years of development, our products has been rated as the best and reliable oil making equipment in the world.
♦ Therefore, we have been awarded various quality authentication from government institutes and alibaba. What's more, our good service is also well received by customers around the world.
Packing and delivery
1.The normal package is wooden box. If export to european countries,the wooden box will be fumigated.Or as customers required.
2.Port: Qingdao,Shanghai,Tianjing.
3.Lead time: Within 5-25 working days after payment confirming.
Contact