FREE FORGING HYDRAULIC PRESS MACHINE
Yz14 Series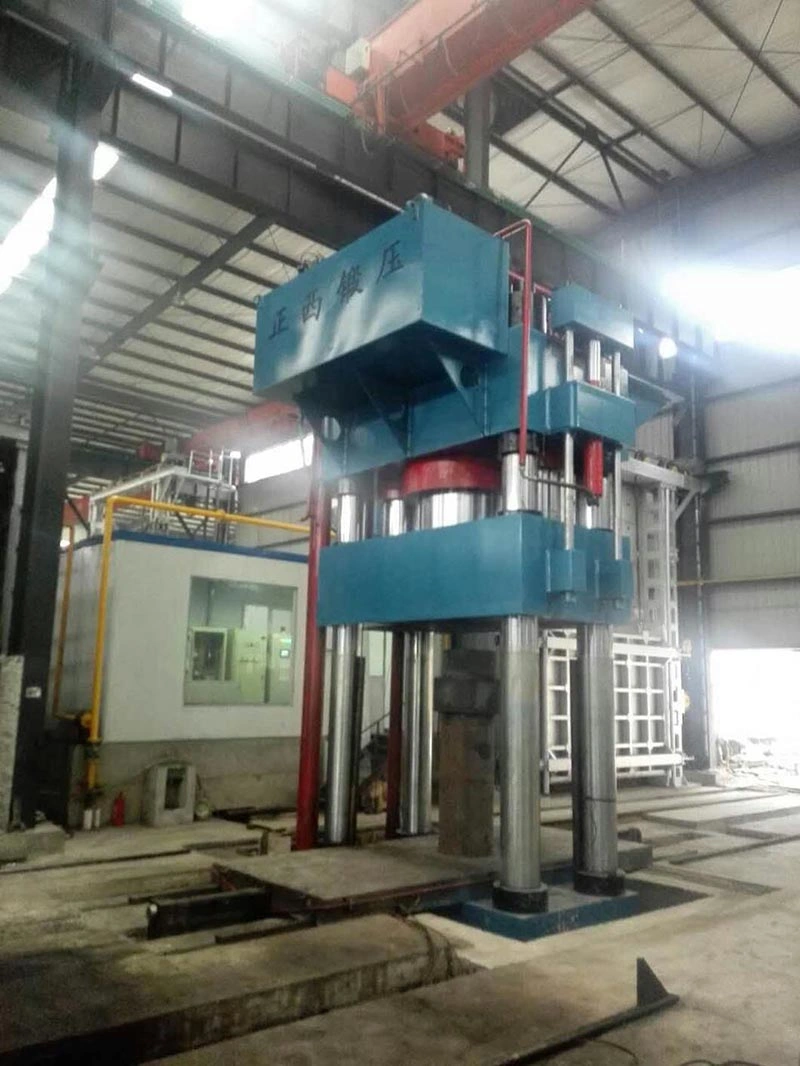 Technical specs
| | | | | | | | |
| --- | --- | --- | --- | --- | --- | --- | --- |
| Model ( four-column type) | unit | Yz14-800T | Yz14-1000T | Yz14-1600T | Yz14-2000T | Yz14-2500T | Yz14-3150T |
| Nominal force | KN | 8000 | 10000 | 16000 | 20000 | 25000 | 31500 |
| Max.Liquid working pressure | MPA | 31.5 | 31.5 | 31.5 | 31.5 | 31.5 | 31.5 |
| Pressure classification | KN | 8 | 5/10 | 8/16 | 8/12/20 | 10/15/25 | 10.5/21/31.5 |
| Max.open height | MM | 2500 | 2600 | 2800 | 3000 | 3000 | 3500 |
| Return force | KN | 1000 | 1600 | 2000 | 2600 | 3200 | 3600 |
| Slider stroke | MM | 1200 | 1400 | 1600 | 1800 | 2000 | 2100 |
| Center distance of column | MM | 2200*1100 | 2400*1100 | 2800*1200 | 3000*1600 | 3300*1600 | 3400*1600 |
| Dia of column | MM | 260 | 280 | 360 | 400 | 450 | 470 |
| Moving table size (L-R) | MM | 1500 | 1800 | 1800 | 1900 | 2000 | 2000 |
| Moving table size (F-B) | MM | 2800 | 2800 | 3600 | 4500 | 5000 | 6000 |
| Moving table size (H) | MM | 2200 | 2500 | 2500 | 2500 | 3000 | 3500 |
| Moving table stroke | MM | 2*1000 | 2*1000 | 2*1500 | 2*1600 | 2*1600 | 2*2000 |
| Moving table procedural place | MM | 3 | 3 | 3 | 3 | 3 | 3 |
| Foring eccentricity | MM | 100*60 | 100*60 | 140*70 | 150*100 | 150*100 | 200*120 |
| Slider down speed | MM/S | 250 | 250 | 250 | 250 | 250 | 250 |
| Slider pressing speed | MM/S | 70 | 144/70 | 103/50 | 160/105/50 | 110/68 | 180/10/45 |
| Slider return speed | MM/S | 250 | 250 | 250 | 250 | 250 | 250 |
| Speed of moving table | MM/S | 200 | 200 | 200 | 200 | 200 | 200 |
| Times of quick-forging | ONCE/TIMES | 50-60 | 50-60 | 40-50 | 40-50 | 40-50 | 10-50 |
| Main motor power | KW | 660 | 770 | 880 | 1210 | 1760 | 2200 |
| | | | | | | | |
| --- | --- | --- | --- | --- | --- | --- | --- |
| Model (H-frame type) | unit | Yzk14-1250 | Yzk14-1600 | Yzk14-2000 | Yzk14-2500 | Yzk14-3150 | Yzk14-4000 |
| Nominal force | KN | 12500 | 16000 | 20000 | 25000 | 31500 | 40000 |
| Max.liquid working pressure | MPA | 31.5 | 31.5 | 31.5 | 31.5 | 31.5 | 31.5 |
| Pressure classification | KN | 12.5 | 8/16 | 8/12/20 | 10/15.5/25 | 11/20/31.5 | 15/25/40 |
| Max.open height | MM | 2500 | 2800 | 3300 | 3600 | 4400 | 4450 |
| Return force | KN | 1600 | 2000 | 2500 | 3200 | 3200 | 4000 |
| Slider stroke | MM | 1200 | 1450 | 1600 | 1800 | 2000 | 2100 |
| Distance of column( L*B) | MM | 1800*1000 | 2100*1000 | 2250*1100 | 2400*1200 | 4500*2000 | 4500*2200 |
| Guide form of slider | MM | type three guide | type three guide | type three guide | type three guide | type three guide | type three guide |
| Moving table size ( L*R) | MM | 1400 | 1600 | 1800 | 1900 | 2200 | 2200 |
| Moving table size( F-B) | MM | 4000 | 4000 | 5000 | 5000 | 6000 | 6000 |
| Moving table size (H) | MM | 250 | 250 | 250 | 250 | 350 | 350 |
| Moving table stroke | MM | 4400 | 4400 | 5000 | 5400 | 6200 | 6200 |
| Moving table procedural place | MM | 3 | 3 | 3 | 3 | 3 | 3 |
| Foring eccentricity | MM | 100 | 200 | 200 | 200 | 250 | 250 |
| Slider down speed | MM/S | 250 | 250 | 250 | 250 | 250 | 250 |
| Slider pressing speed | MM/S | 60 | 180/90 | 250/160/95 | 160/95/50 | 180/100/65 | 240/150/90 |
| Slider return speed | MM/S | 250 | 250 | 250 | 250 | 250 | 250 |
| Speed of moving table | MM/S | 200 | 200 | 200 | 200 | 200 | 200 |
| Times of quick-forging | ONCE/MIN | 60-70 | 60-70 | 60-70 | 60-70 | 60-70 | 60-70 |
| Main motor power | KW | 660 | 1320 | 1760 | 2200 | 2530 | 3300 |
Performance characteristics



1. With four-post type and frame type two kinds of structure.
2. Computer optimized design, the host of simple structure, strong practicability.
3. Hydraulic support safety loop and hydraulic safety protection circuit for each working cylinder.
4. The whole machine structure rigidity, high strength, resistance to partial load ability.
5. Complete safety device and safety control system.