XPI Motor Lamination High Speed Precision Punching Press
(25ton-60ton)
Manufacturing Standards
:ISO/CE /Japanese JIS 1 Class

Video Link:

https://xuzhoupress.en.made-in-china.com

1. Parameters


25ton -- 60ton Parameters
Name
unit
XPI-25
XPI-45
XPI-60
Model
A
B
A
B
A
B
Capacity
ton
25
45
60
Stroke
mm
30
30
30
Stroke per minute
s.p.m
200-600
200-800
200-500
200-700
200-400
200-600
Die height
mm
210
230
305
Bolster
mm
600x300x80
700x415x100
840x470x105
Area of slide
mm
300x205
420x320
550x340
Slide adjustment
mm
30
30
30
Bed opening
mm
200x100
240x120
320x160
Motor
Kw
3.7
5.5
7.5
Gross weight
kg
3000
4500
8000
Lubrication
Forceful Automation
Forceful Automation
Forceful Automation
Speed control
Inverter
Inverter
Inverter
Clutch & brake
Air & Friction
Air & Friction
Air & Friction
Auto top stop
Standard
Standard
Standard
Vlibration system
Optional
Optional
Optional
2.
Technical Descriptions :
1)
Adopt integrated high-strength casting machine, with
internal
stress relief
process
, to guarantee long-term precision.
2)
Three-circle guide pillar slider structure, adopting alloy steel bush and forced lubrication, so that thermal change can fall to the minimum
and ensure high precision
.
3)
Dynamic equilibrium system is used to balance bent axles and
offset vibration
generated when
slider
high speed running ,
and to
ensure
stability of
slide
bottom dead center.
4)
Manual
mould
-height adjustment is equipped with mould-height indicator and
hydraulic mould locking
device.
5)
Human-computer interface (electronic cam + rotary encoder) operation convenient and accurate.
6)
Operating functions are integrated on LCD ( Liquid Crystal Display )
,
machine
malfunction
will be display
automatically.
7)
Adopt highly sensitive and reliable clutch/brake and internationally top duplex magnetic valve, to guarantee precision and safety for operation and stop of press rams.
8)
With thorough electric loop design, they can be matched with various automatic devices, to conduct automatic production
for
reduc
ing
cost
and improv
ing
efficiency.
Standard Configuration:
>
Top stop
>
Manual slider adjusting device
>
Mould-height indicator
>
Frequency converter
>
Programmable control (PLC)
>
Touch screen
(pre-
set
pre-cut, and count
er, angle indicator
)
>
Encoder (electronic) reserved (2 groups)
>
O
peration box
>
Air source connector
>
Mould
Sticking release device
>
Main motor (adjustable speed)
>
Hydraulic -
mo
uld
locking
>
Mechanical crank angle indicator
>
Forced
-
circulation
Lubrication
device
>
Tool box
>
Operating manual
>
Power socket
>
Independent electric control cabinet
Optional Configuration:
>
Anti-vibration foot
>
Feeder
>
Decoiler
>
Material oil lubricating device
>
Bottom dead center detector
>
Oil cooler
>
Mould li
gh
t
>
Air-blast device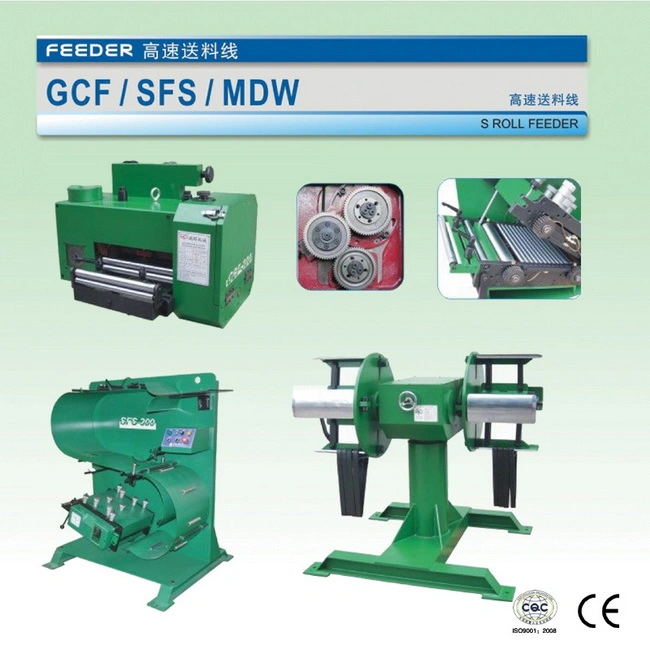 3. Company Introduction :